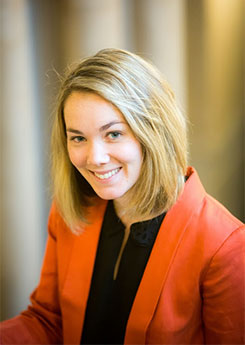 The Rev. Hannah Lovaglio: Associate Pastor for Youth Ministry and Christian Education
Hannah Lovaglio has the fondest memories of growing up in the Blue Ridge Mountains of North Carolina, where she was known around her small town as the PK (Preacher's Kid). As a PK, Hannah grew in faith and love, learning to trust God and God's love at work in the world, made known in the life, ministry, death and resurrection of Jesus Christ, and unfolding still today by the power of the Holy Spirit. At church, Hannah always knew that she belonged, that she was free to make mistakes, to try again, to voice her faith and her doubts, to love and be loved, and to challenge others to do the same.
Hannah attended Davidson College in Davidson, NC. At Davidson, she busied her self with cheerleading and studying. Her proudest Davidson days were those spent cheering in the 2008 NCAA Men's Basketball Tournament and those spent writing her Religious Studies thesis: A Reformed Theology of Reconciliation. These two things make her an expert in both all things Stephen Curry (NBA MVP, 2015 & former Davidson Wildcat) and all things PC(USA) Confession of 1967 (found in the PC(USA) Book of Confessions). This makes for a strange but balanced life.
After receiving her BA in Religious Studies, Hannah went on to attend Stellenbosch University in Stellenbosch, SA where she earned her first Masters of Divinity. Hannah would then work for Broad Street Ministry in Philadelphia, PA before earning her second Masters of Divinity from Union Theological Seminary in New York City.
Along the way, Hannah has worked in various capacities at a number of different churches and non-profits, including Swarthmore Presbyterian Church (Swarthmore, PA), the Center for Race, Religion and Economy Democracy (New York, NY) the Presbyterian Church of Upper Montclair (Upper Montclair, NJ), the Nyack Project (Nyack, NY), and the Nauraushaun Presbyterian Church (Pearl River, NY). In all of these places, and now at Cranbury, Hannah hopes to lead the church as we together live into our call to be a community of faith — a community gathered to give thanks to and worship God — where each person belongs and is free to make mistakes, to try again, to voice faith and doubt, to love and be loved, and to challenge ourselves and others to do the same. Hannah is married to Michael, who holds her hand and her heart and who is called to ministry in his own right as an high school educator. They are the proud parents of James Tiberius Lovaglio ("Tiberius" for short), an energetic black lab mix.