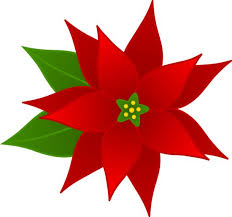 Christmas Poinsettias
Would you like to purchase a Christmas poinsettia?  We'll be using them to decorate the sanctuary for Christmas.  If you wish to make a purchase, as a memorial, a gift of gratitude, or in honor of a friend or relative, please use the form below.  The cost is $15 per plant.  Our congregation has, in the past, donated more flowers than could possibly be used.  These extra donations go to the Deacons Benevolence Fund, which supports such projects as the Thanksgiving Baskets and other local community needs.  Poinsettias may be picked up after the 11:00 p.m. Christmas Eve Candlelight Service or on Tuesday by contacting the church office.  Any plants remaining after December 26 will be distributed as gifts by the Deacons.
Your order and money may be mailed, dropped off at the church office, or put into the offering plates.  Make checks payable to the Board of Deacons.  Deadline – December 10.
Please purchase ________ poinsettias.
____ in memory of____________________________________________________________
___________________________________________________________________________
____ in honor of______________________________________________________________
___________________________________________________________________________
____ as a gift to The Board of Deacons
I would like my poinsettia(s):
____ saved for me to pick-up
____ to be distributed by the Deacons
Name   ___________________________________________
Phone   ______________________ Amount    _________________________
Details
Starts On
December 10, 2017 - 12:00 am
Ends On
12:00 pm
Powered by Yendif Technologies