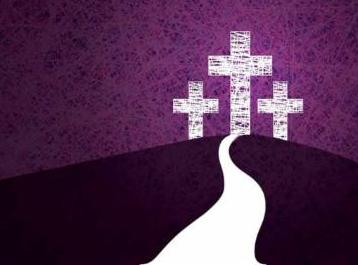 You cannot do a kindness too soon for you never know how soon it will be too late.   Don't let the sunset any day without doing a small kindness.
On February 14th, the season of Lent begins. As a congregation, we've extended two Lenten Challenges – two practices you might find meaningful in this season of contemplation, penance, service and prayer. They're appropriate for children and adults alike, and families might find dinner time conversations around these challenges to be a welcome break from the business of life.
Lent lasts from Ash Wednesday (February 14) until Easter Sunday (April 1), which is 40 days if you don't count Sundays. Why don't Sundays count? Because every Sunday is a little celebration of the resurrection!
We invite you to accept either or both of these challenges, or to follow your own. The traditional Lenten practices include prayer (relationship with God), fasting (relationship with self), and almsgiving (relationship with others). This year, whether you're taking something on or giving something up, share your Lenten practices with your church family – we can't wait to hear what you're doing for Lent, to support you on the journey, and to learn from God's work in your life!
40 Days of Prayer – A Lenten Challenge from Pastor Lou
In his sermon on February 4th, Pastor Lou invited us to spend our Lent in Prayer, praying the Lord's Prayer and the 23rd Psalm every day during Lent. Many of us did this during the Summer of 2016, and were inspired by how the familiar words, prayed daily, reoriented our lives back to God and made us more aware each day of God's presence in our lives. These prayers offer a moment of peace, a short break in the day to remind us who God is and who we are as followers of Jesus.
40 Days of Kindness – A Lenten Challenge from the Outreach Committee
During the 40 days of Lent reach out to a friend, family member, or someone you have not seen in church lately. You can give them a call, send them a card, or visit. You could bake them something or give them something that you made. Each day record your act of kindness in a journal. See a member of the Outreach Committee with any questions or if you need a journal. The goal of this project is to act more like Jesus.
For the full Minute for Mission from 2/11/17, see the Outreach Committee bulletin board – the words were truly inspiring!
Blessings on your Lenten Journey!
Pastor Lou & Pastor Hannah
Details
Starts On
March 16, 2018 - 12:00 am
Powered by Yendif Technologies