Skeet's Pantry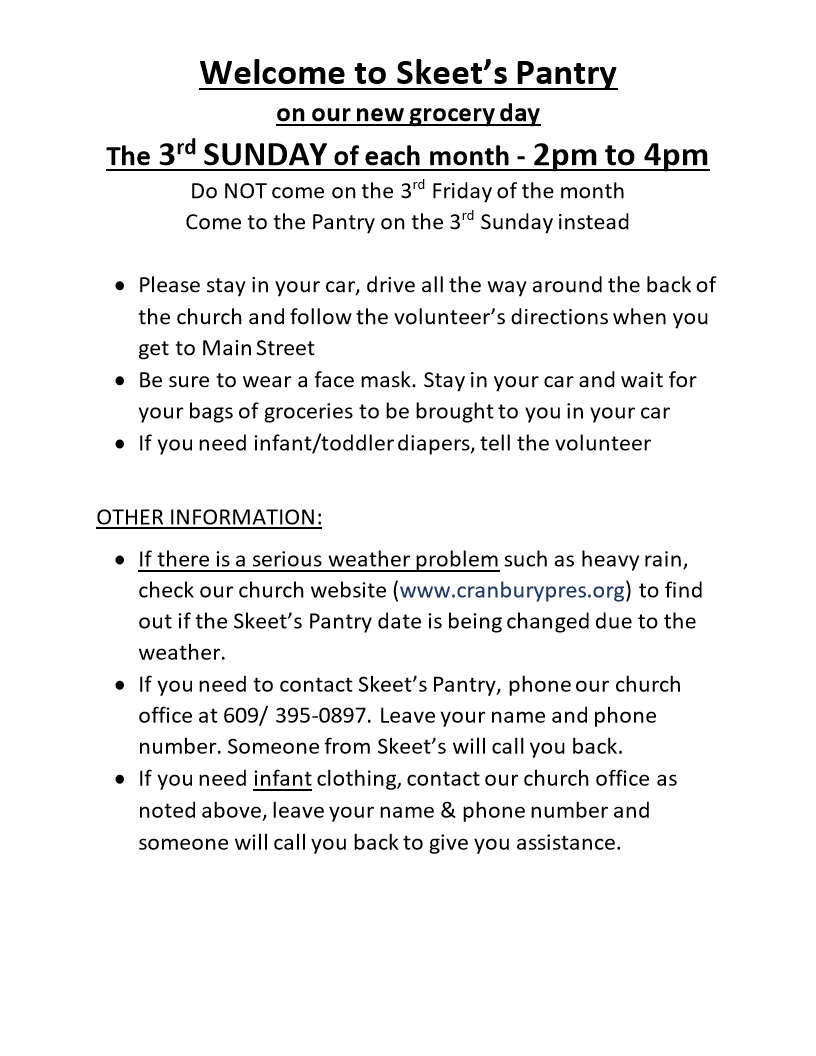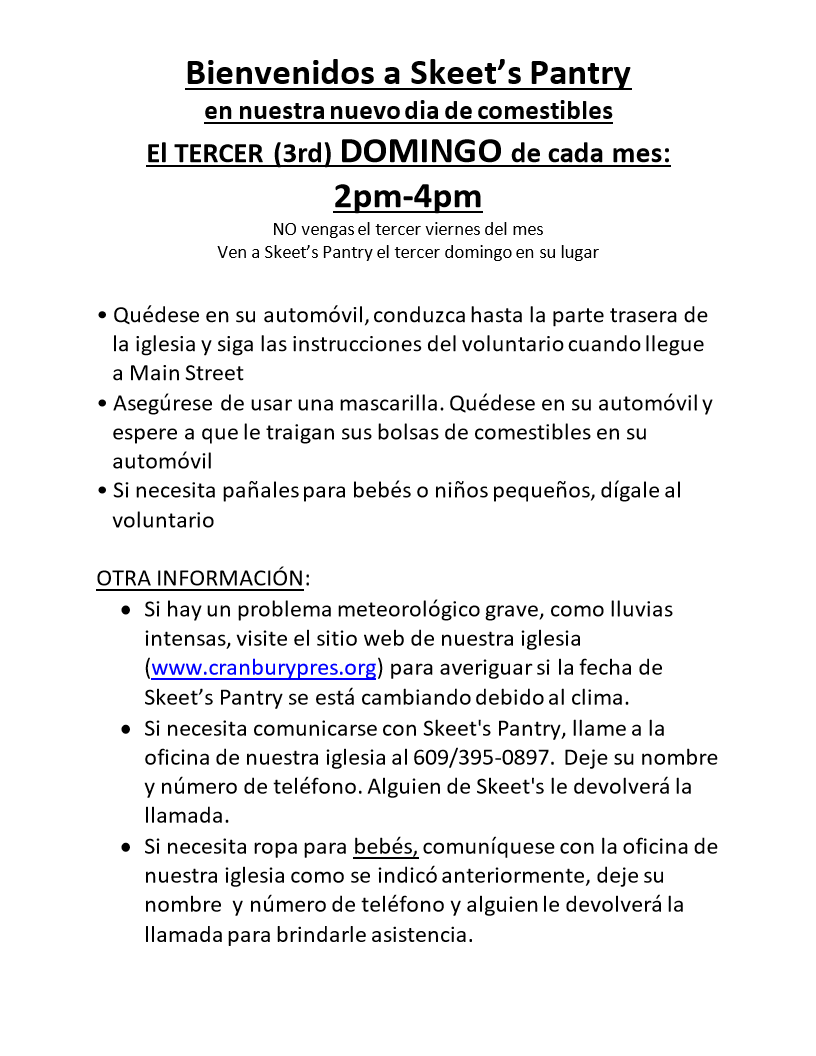 IMPORTANT – FOR ALL SKEET'S PANTRY FAMILIES
Someone from Skeet's Pantry will call you and work out a plan to give you more groceries – either by giving them to someone who can come pick them up at the church for you, or possibly delivering to you by one of our volunteers if you live near the church
Also, watch our church website (www.cranburypres.org) for other information about Skeet's Pantry.
IMPORTANTE – PARA TODAS LAS FAMILIAS de SKEET'S PANTRY
Alguien de Skeet's Pantry lo llamara y elaborara un plan para darle mas alimentos – ya sea entregandoselos a alguien que pueda recogerlos en la iglesia por usted, o posiblemente entregandoselos a uno de nuestros voluntarios si vive cerca de la iglesia.
Tambien, mira el sitio web de nuestra iglesia (www.cranburypres.org) para obtener mas informacion sobre Skeet's Pantry.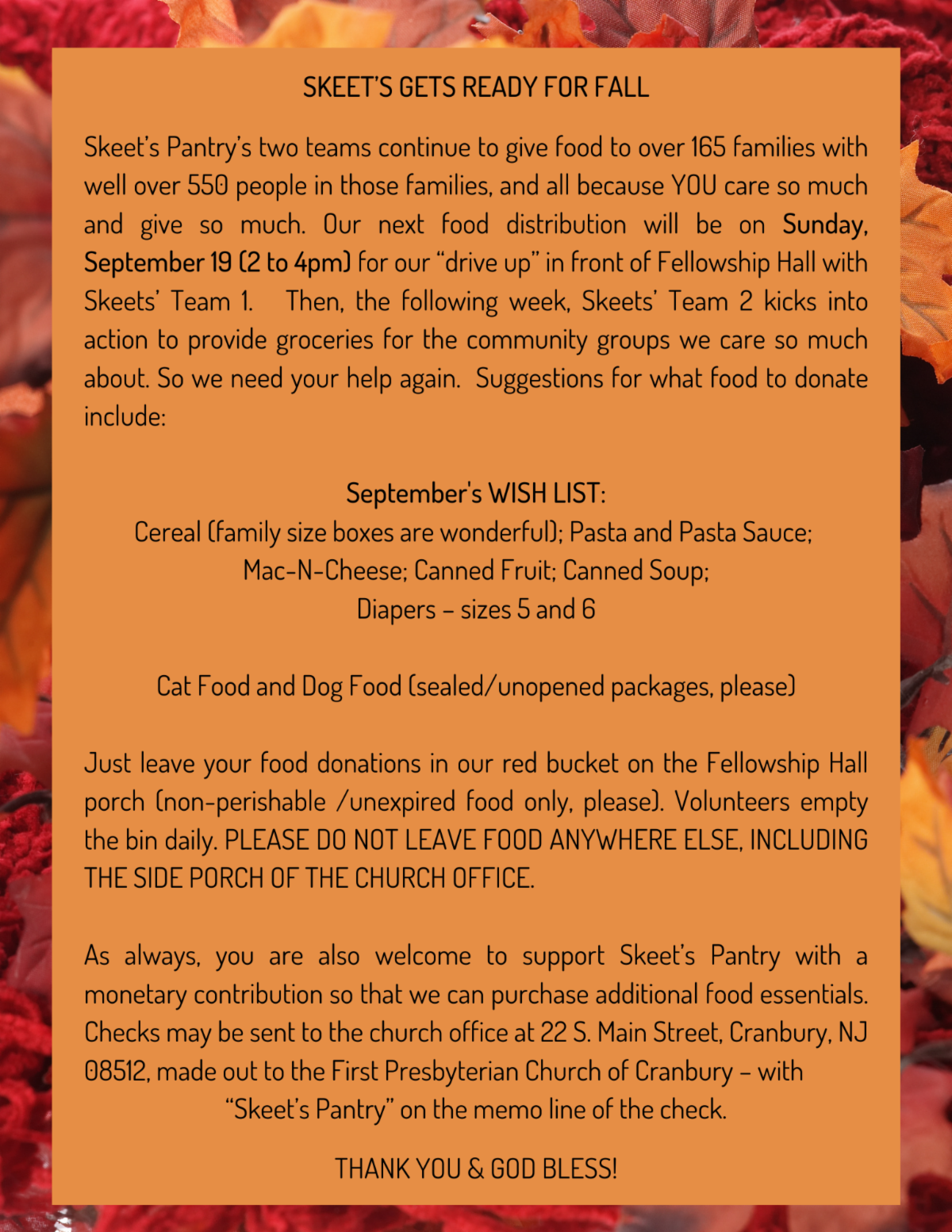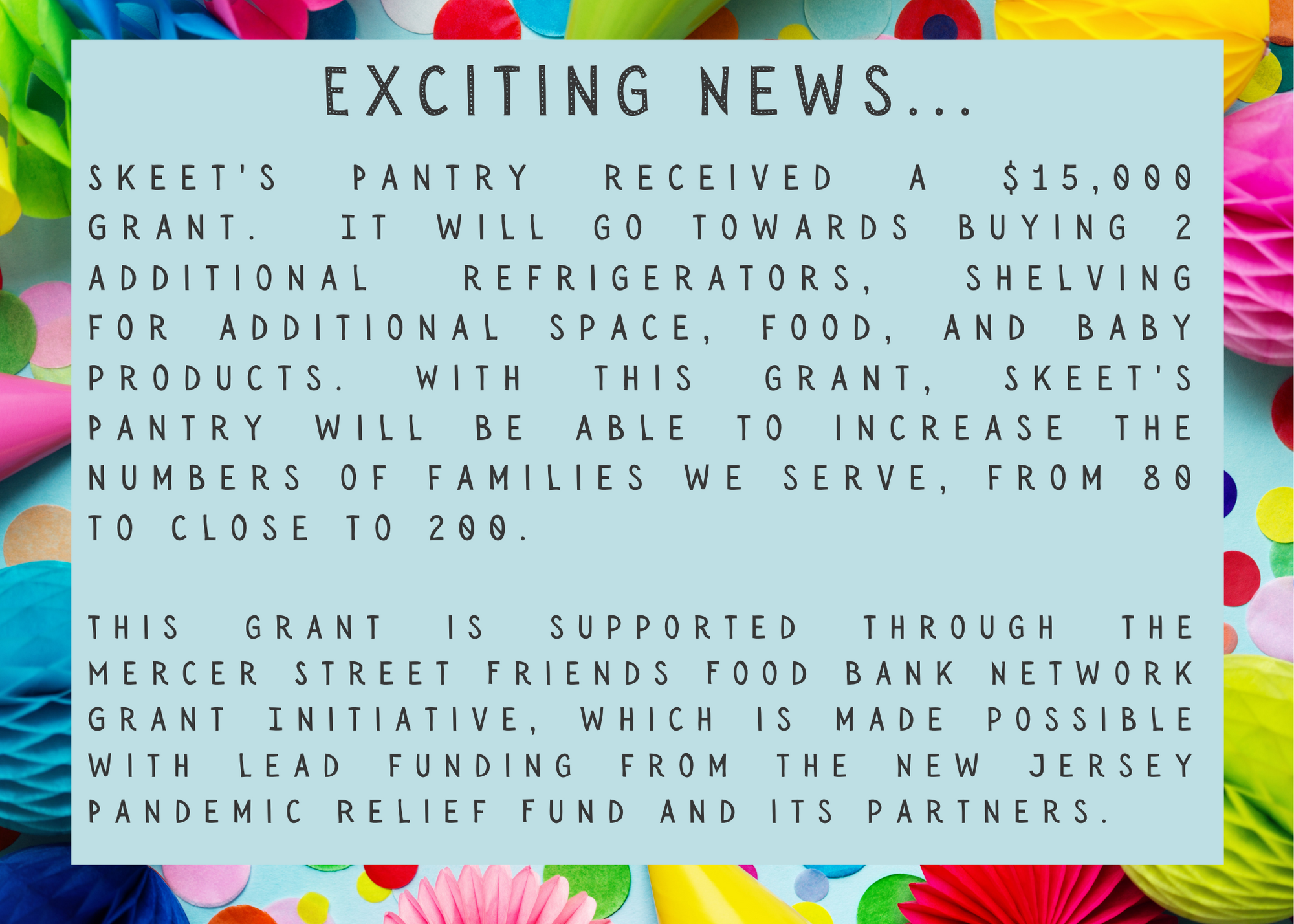 Skeet's Pantry is a mission of our church, coordinated and staffed entirely by volunteers. Food includes non-perishable staples, frozen items and fresh fruits and vegetables. It is provided to anyone in need from Cranbury and surrounding communities. All that is required is to come to our monthly Pantry distribution and provide us with a name and address. We respect our patrons' privacy and ask for this information only so that they can be contacted in the event of changes in our regular Pantry schedule.
In addition to donations from town residents and church members, Skeet's Pantry also gets help from many community programs. The food for November Thanksgiving baskets is collected every year by Cranbury Boy Scout Troop 52. It is then sorted by the Youth Group and the Cranbury Girl Scouts. Cranbury Girl Scouts also help decorate the food baskets by creating heartfelt cards. In addition, the Middle School Vacation Bible School class collects food in the summer during a time of great food insecurity.
Food Distribution
Third Sunday of every month* (2:00 p.m. to 4:00 p.m.) drive-through food distribution in Parking Lot.
*In November, Skeet's Pantry is replaced by the distribution of Thanksgiving "baskets" by our Deacons, and in December, Skeet's Pantry's food distribution is sometimes moved to an earlier Sunday.
Call our church office at  (609) 395-0897 if you have any question about the next Pantry date.
Food Collection
Non-perishable food donations are always welcome in the bin in front hall of Fellowship hall during the week. Please be sure any expiration dates are current.
Current Needs: Peanut Butter & Jelly; Tuna Fish; Canned Soup; Pasta & Pasta Sauce; Cereal; Canned Fruit; Plastic Grocery Bags (in good condition) As always, please double check expiration dates, and THANK YOU SO MUCH for your help! Please drop items in the bin outside the Fellowship halls of the church. NO OUT-OF-DATE food can be accepted. Thank you.
Can You Help Skeet's Pantry? We are looking for strong volunteers who have a truck or van. The third Thursday of the month from 2:00 p.m. to 4:30 p.m. we pick up fresh produce from the Farmer's Against Hunger truck in Trenton. We deliver the produce back to the church for Skeet's food distribution the next day. This is the primary way Skeet's Pantry gets fresh produce for its patrons every month. If you know someone who can lift 50 lbs. or has a truck or van and wants to help feed the hungry, please contact the church office. You do not have to be a church member. Please spread the word!
History
Waynatta "Skeet" Trowbridge, possibly nicknamed for being no bigger than a mosquito, founded Skeet's Pantry in the 1980's. In World War II, she had felt the effects of hunger during her time on a troop train which was transporting soldiers and their families from post to post without food or water. Later, after settling in Cranbury, she realized the prevalence of food insecurity in our local community. She started helping people independently out of her own pocket, but wanted to do more. At the time, our church Deacons already distributed Thanksgiving Food Baskets, so she expanded that program to a Friday Bread Program where day old bread, bagels and cakes were purchased or donated by local markets and then distributed on Fridays by Skeet and other church volunteers. Eventually, this effort expanded from a rack of canned food to a whole room across from Fellowship Hall to hold all the food donations. Skeet and volunteers delivered food to those in need, while maintaining a reserve supply for anyone who came for help to the church office or Skeet's home. This passion and love for helping those in need remained with Skeet all her life, and is kept alive by all the volunteers who continue to make Skeet's Pantry an ongoing mission of our church, serving over 80 families each month and still growing!